Your Local
Estate Planning and
Probate Attorneys
The experienced lawyers at Barr, Anhut & Associates, P.C., utilize modern techniques for estate planning, wills, trusts, powers of attorney,  probate and trust matters, and help clients understand the process in a clear and straightforward way.
Working in our home community of Ypsilanti, assisting our clients with estate planning for their assets here, in Ann Arbor, or in other areas of Michigan.
Practice Areas
The law office of Barr, Anhut & Associates, P.C. is a general practice firm. We
offer services in many areas of the law and the following are areas in which the
firm has superior experience and proficiency:
A Firm That Is Highly Regarded Throughout Washtenaw County
Barr Anhut & Associates, P.C., brings over 60 years of continuous legal service to the Ann Arbor / Ypsilanti area and surrounding communities.
Practice areas include estate planning, wills, trusts, power of attorney, business entities, corporations, limited liability companies, business planning, real estate, municipal law, litigation, and general practice.
Schedule Your Consultation
Please provide the requested information so that we may schedule your consultation.
We will contact you by e-mail or phone to finalize a time.
An $80 consultation fee is required for all initial meetings with an Attorney.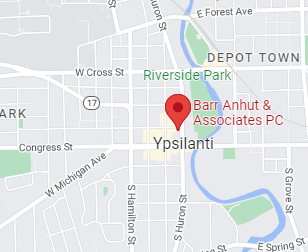 Submission of information by this web form or any other non-secure means is done so voluntarily and indicates that you have read and agree to the disclaimers and terms of BarrLawFirm.com and Barr, Anhut & Associates, P.C. Making this request does not constitute or create an attorney-client relationship or any confidentiality requirement. No attorney-client relationship is established until a written agreement of representation has been agreed upon and signed.
Blog Post
Helpful things for everyone in the community.
Don't miss out on future updates.
Subscribe to our newsletter and follow us on Facebook.